Lao Society Lifestyle Magazine
Fashion & Planes in Laos
Do you ever have the dream that you are flying; your stomach, heart, and mind intertwined in an aerial tango? Do you ever dream of Laos; the karst jagged limestone peaks giving way to the undulating terrain that caresses the Mekong River?

Now combine these with intrinsically dreamy Lao silk, a centuries old tenet of Lao culture that has seen a resurgence over the past two decades amidst recognition of the extraordinary skill of Lao weavers.
These dreams have manifested themselves in reality, and they teamed up recently on the Khoksa Airfield, home of Lao Airsports Club.
.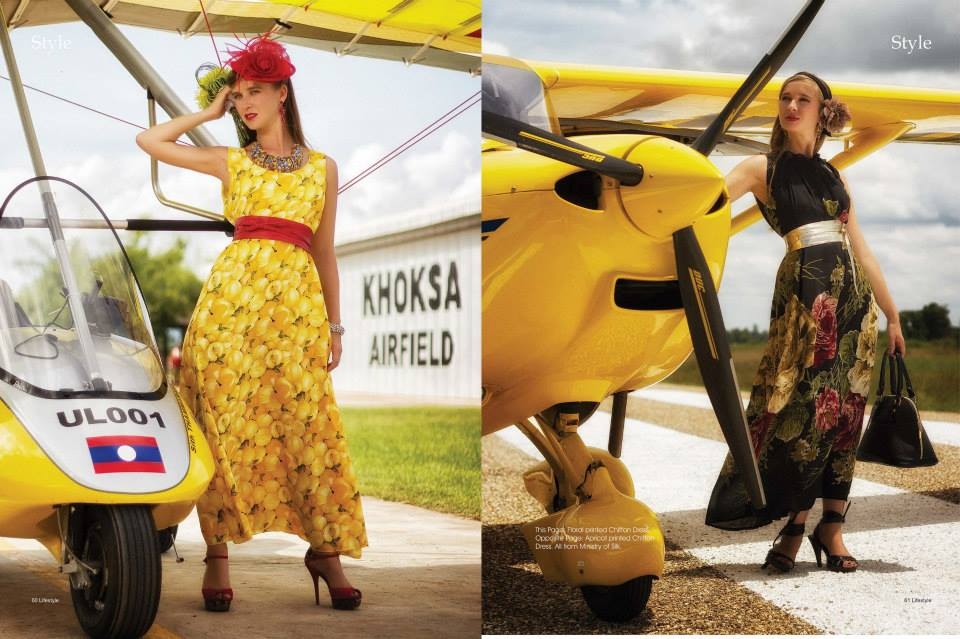 Lao Airsports Club, founded by Ravansith "Sith" Thammarangsy in 2012,
and Khoksa Airfield are located just 40 kilometers northeast of Vientiane. Air sports enthusiasts in Laos are happy to have a location to gather, take off, and continue training; all made possible through Sith working with the Lao Department of Civil Aviation to create regulations governing ultra light aircrafts.
.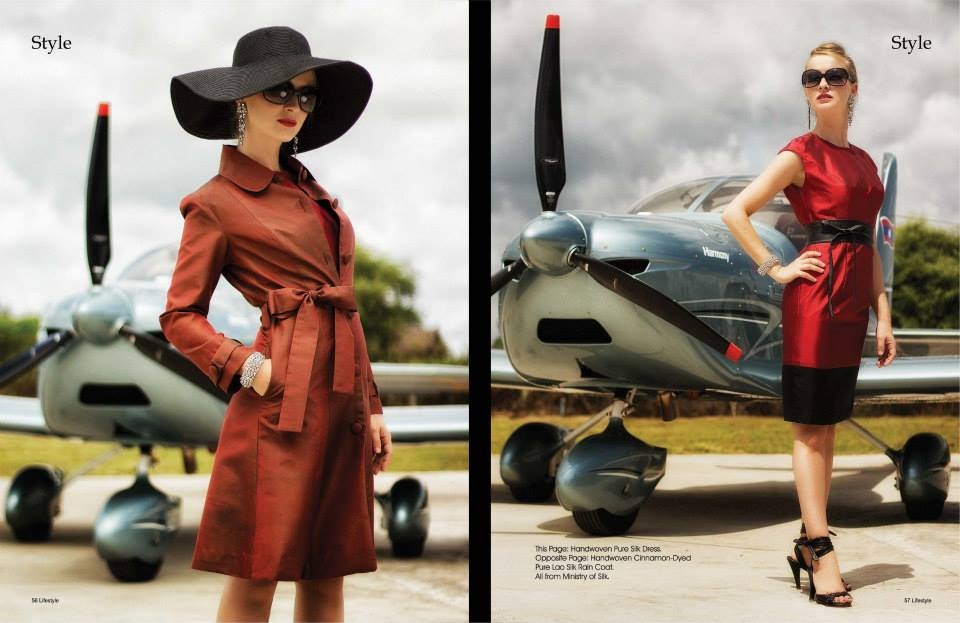 The Lao Airsports Club
was approved as an Ultra Light Aircraft Pilot Training Center by the Ministry of Education and Sports in January 2012. The Khoksa Airfield sports a 700-metre runway, a hanger, and teaching facilities. The purpose of the club is to develop all types of airsports activities in Laos such as paragliding and hang gliding, paramotoring, delta-wing trikes, and fixed-wing aircraft. Aforementioned flying dream over Laos can soon become reality for locals and foreigners alike!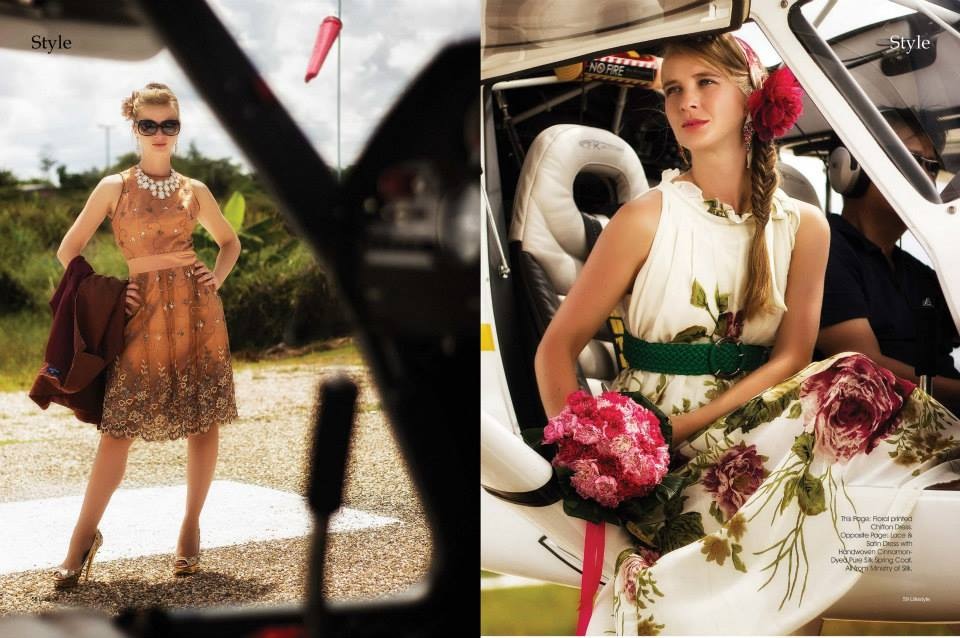 .
The Ministry of Silk
also opened in 2012, providing high end, sophisticated clothing for an international market. The brand is turning heads toward the Laos fashion industry with elegant, high quality, simple designs made from organic textiles. Ministry of Silk was selected to represent Laos at ASEAN Fashion Week 2013 in Japan. The flagship store can be found at 99/01 Namphou Square, Vientiane.
.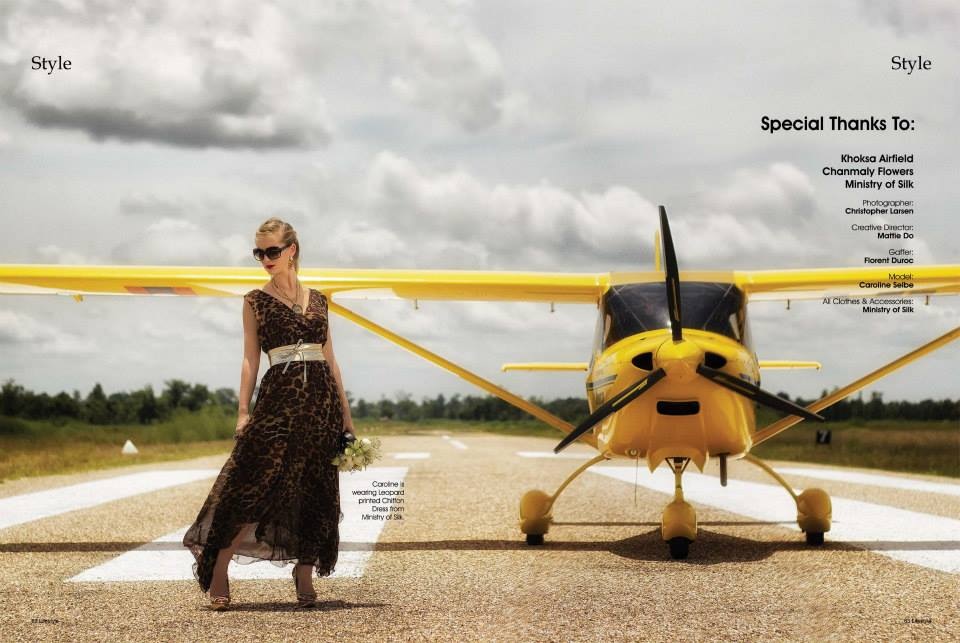 .
Flying dreams fall under a category known as lucid dreams,
occurring when you become aware that you are dreaming. If you are flying with ease and enjoying the scene below it can suggest that you are on top of a situation, or perhaps you have gained a new perspective.
Lao Airsports Club and Ministry of Silk are doing just that, gaining a new perspective on the ever-expanding horizons of contemporary life and culture in Laos.
See full story in the March-April 2014 edition of Society Lifestyle Magazine.