I'LL TELL YOU A SECRET 
LUANG PRABANG HIDDEN WATERFALL ADVENTURE



My team and I joined our local operations team and went on an adventure just outside of Luang Prabang! All we really knew was there is a Hidden Waterfall in Luang Prabang that Rival's, or is at least equal to, the awesomeness of the 100 Waterfalls in Nong Khiaw, which Tiger Trail Travel discovered back in 2009.
10 of us jumped in a Tuk Tuk with our good friend Holger from Hill Side Lodge and headed out of the main center of Luang Prabang through local villages, luscious jungle settings and bumpy roads. Nothing like a ride in a Tuk Tuk over mud, rocks and potholes to get all your bones clanging together for that morning wakeup call!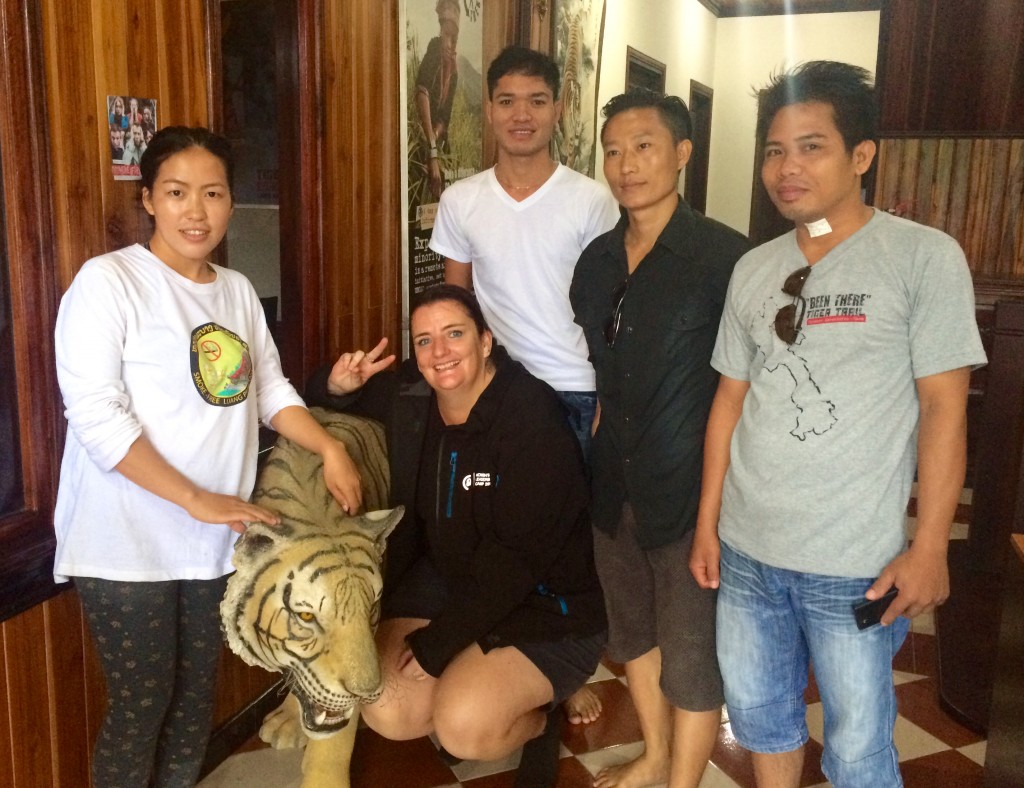 10 of us jumped in a Tuk Tuk with our good friend Holger from Hillside Lodge and headed out of the main center through local villages, luscious jungle settings and bumpy roads. Nothing like a ride in a Tuk Tuk over mud, rocks and potholes to get all your bones clanging together for that morning wakeup call!
We arrived at the starting point. We were advised beforehand to wear shoes that could get wet and good for hiking as we would be trekking through the waterfalls… This turned out to be the Understatement of the month!
We put a few key items in Waterproof bags, and stripped out of most of our waterproof clothing seeing as it was now being mentioned via whispers throughout the Tuk Tuk that we would be trekking in water waist deep at times… I must admit I was super excited as I have wanted to experience something new here in Luang Prabang Province, but I was also nervous. I am the kind of person that has ended up in an ankle Cast just for not walking properly on a flat pavement!
Of we went, started off with a donation to the local village to provide support to them for allowing us access via their roads and then we were in thick beautiful Lao Jungle, If this was not beautiful enough… we came across the first pools of the many, many, many, cascades of this wondrous "Hidden Waterfall".
My Heart was beating with excitement, this was starting out as one of my best Asian Adventure Tours, and I've been a tour Guide in Asia for over 8years!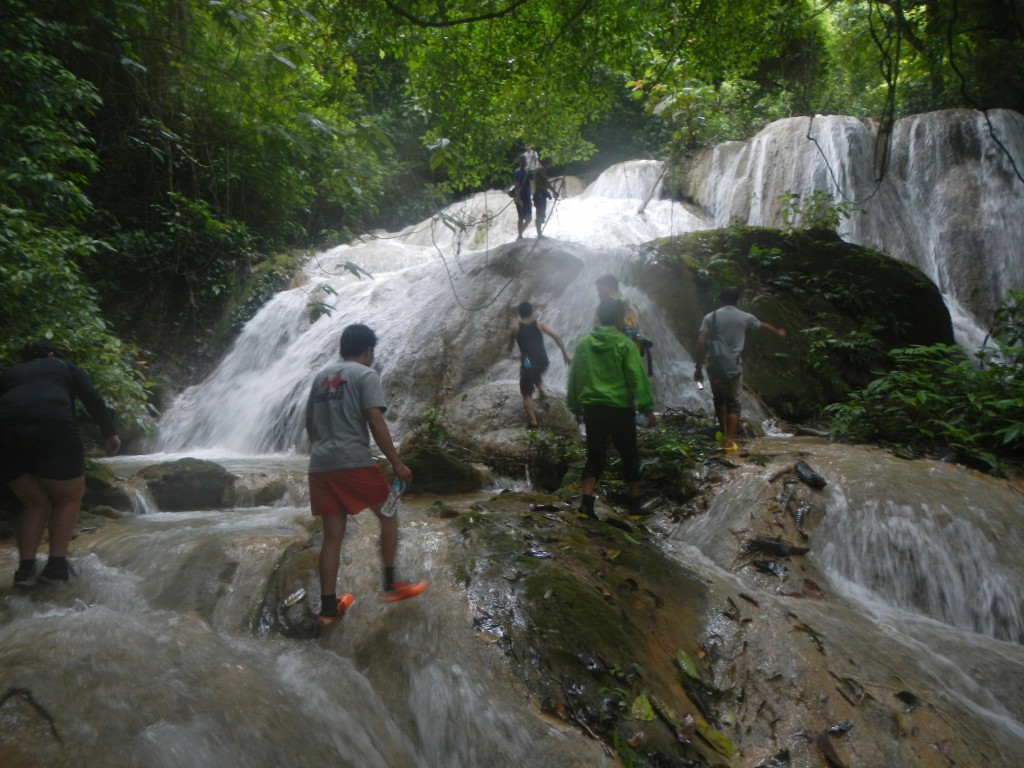 It was a double bonus for me, not only was this Adventure already creeping onto my Top Tour list, I got to spend the day with my team. I must say, it was a god send. I do not have what I call my "jungle eyes" in place yet, so a few helping hands for me along the way was vital to my survival and would of course help in their next review ha ha ha. We were walking in water, and then the next minute I was actually climbing up the waterfall. Have you ever seen those epic adventure programs with people like Bear Grylls? Well that was me! I was gripping onto rocks with water cascading down, on me, around me and over me. I was honestly awestruck at what I was getting to do. Well of course after comparing myself to the mighty Bear Grylls, I had my boys shoving at my bottom and pulling me up by the hands to help me up! Not so glamorous after all, but was such fun filled adrenalin.
A little way up we came across a cove with a deep pool area. Well I was already wet so why not indulge in a little Recuperation I plunged in for a swim! Whoa! It was certainly refreshing.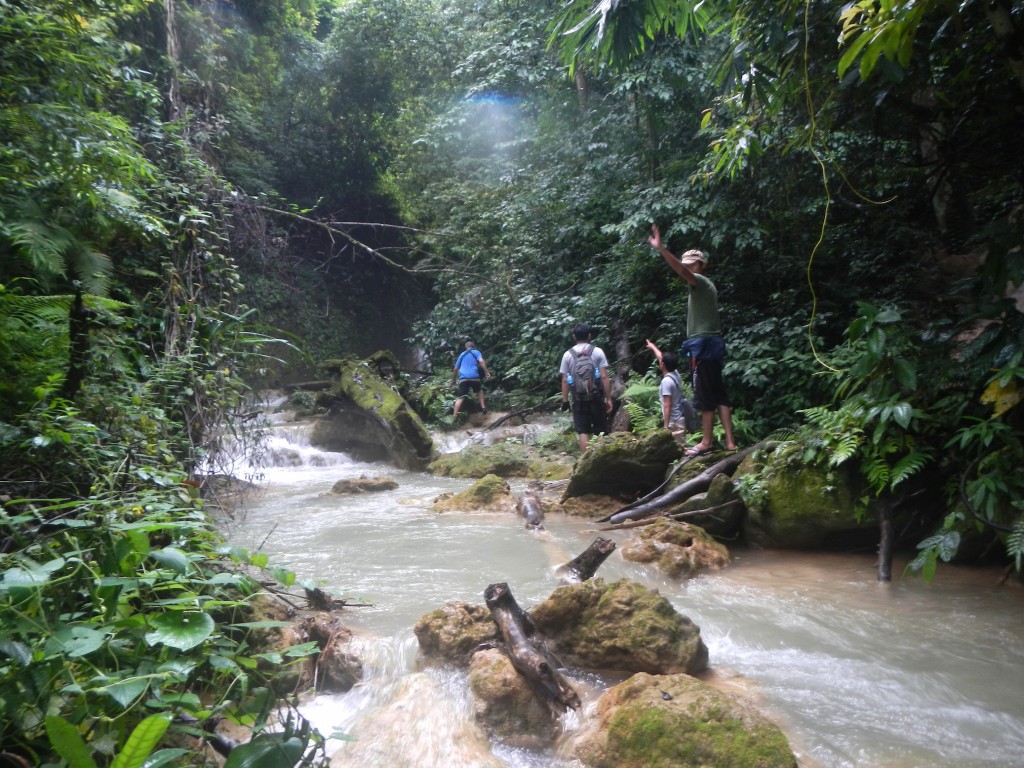 We carried on our adventure, I had No idea how many pools and cascades we were traversing and climbing, I honestly felt like I was in a constant state of awestruck. Each area was different, every part had its own challenge and some parts were actually technically challenging. There is nothing like gripping to rocks in the waterfall and having to use your feet to remove the moss build up so that you don't slip back down the falls… Whilst looking for your next hand holds and foot slots to get up that rock!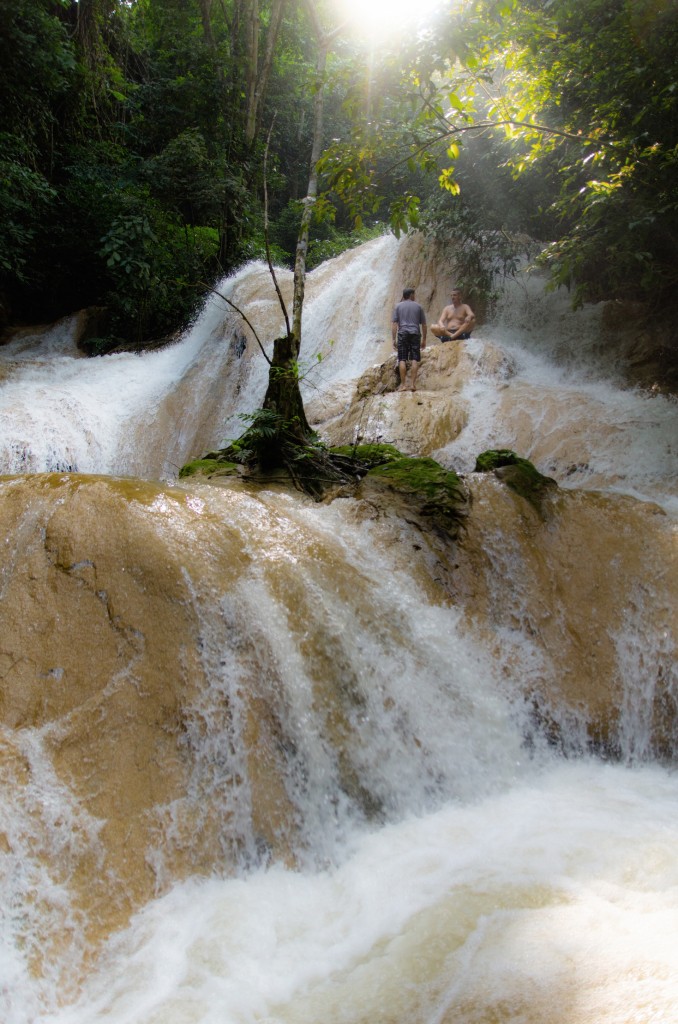 After a few heart palpitating moments in the waterfalls, we were back on some jungle land, and then suddenly I heard, splash, splash followed by giggles, We had come to an area that was full of water, Well this was not ankle deep or even waist high…. We were having to swim in this next section. The rains were coming down, I was swimming in the jungle, and this was just me, in Lao nature at its best and purest.
You could have left me there to become at one with Mother Nature, although I should be careful with what I wish for!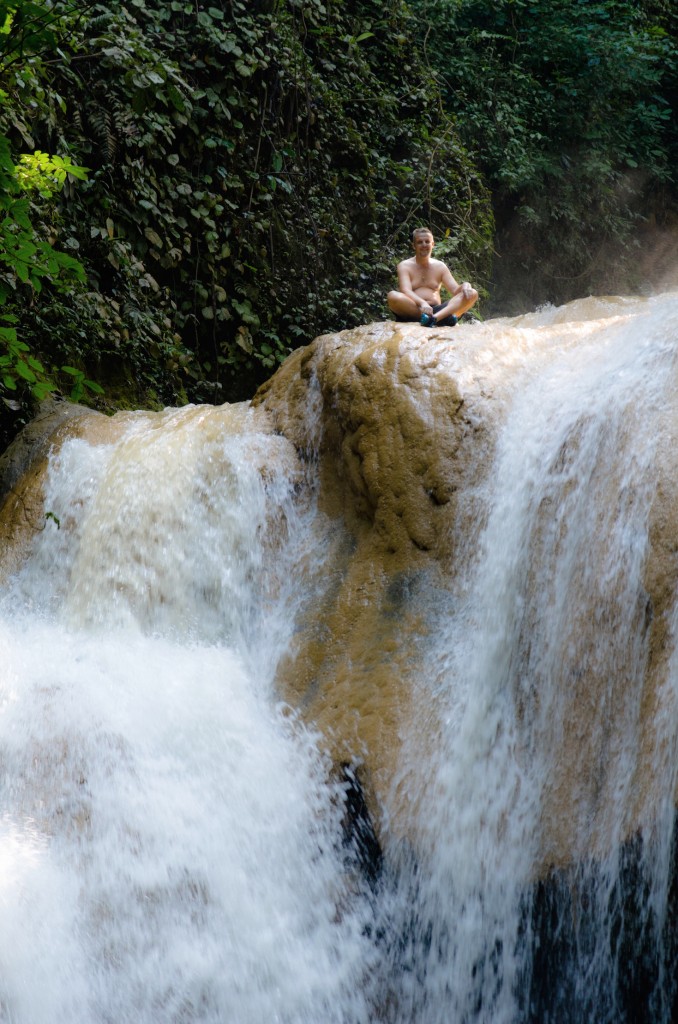 We were coming towards the end at the top of the waterfalls and for a small moment, well about 5minutes I thought I may have to be left, I faced a final technical challenge, I have such an over active imagination the last climb up rocks and around trees on what appeared to me as a thin ledge just looked to dangerous and something I could not do!, Of course all 9 people before me had done it, but I was getting very nervous.
Well there was NO way I was going back the way we came, NO way was I going to just sit there and cry! I did the only thing possible! Followed my tour guide to an alternative route….
I had to swim across the water; it was very strong current so I had to allow for that, I got across and then followed a route along a fallen giant Tree trunk to summit the rocks… I was still a little nervous but with a few friendly helping hands I was up to the top and oh WOW was I buzzing…. Nothing on earth beats the adrenalin rush of an epic journey made to completion!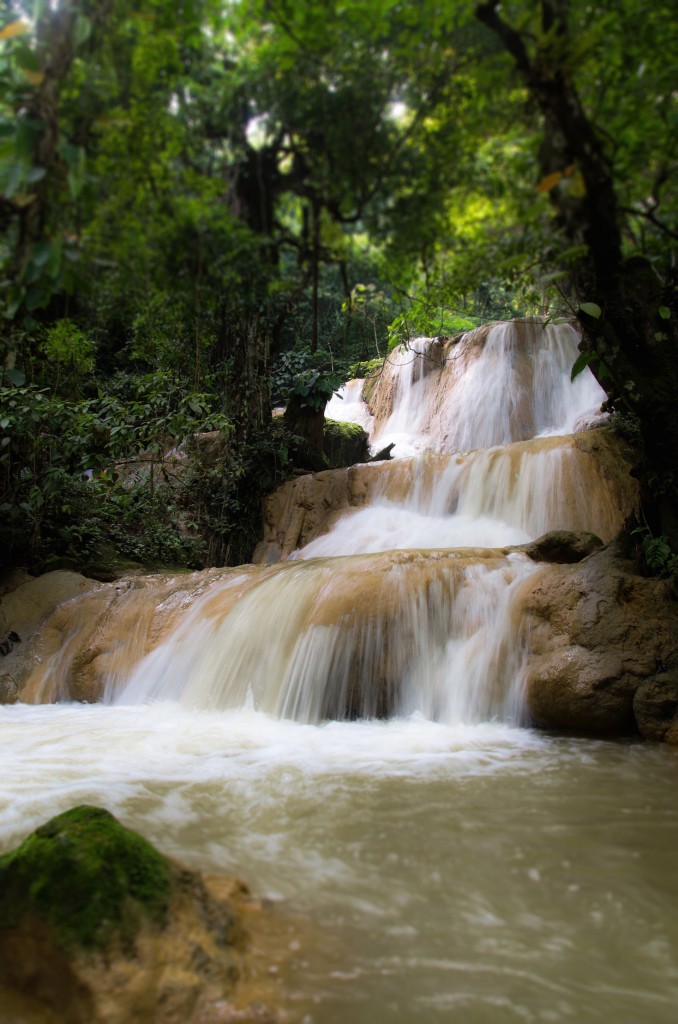 As I mentioned I've been working in Asia over 8 years, and there is nothing more intoxicating than completing such an epic unique adventure which I had been privileged to take part in, that has been kept a secret even though it is right here in my Home City of Luang Prabang.
This is just too amazing not to share, but we want to do it right. Working with our Friends at Hillside Lodge we have created tour packages that allow you to enjoy this magnificent piece of Laos's natural wonder while protecting the local villages and the "Hidden" location.
Come join us in the adventure and our Secret
Click here to see our Hill Side Adventure Tour Example
or ask our team in Tiger Trail Luang Prabang for the following Tour Codes:
Write us an email about Hillside Lodge Tours :
HSA-1, HSA-2 and HSKS-2