The first one and a half months of our time in Luang Prabang have passed and we thought it's time to find some new things to do. Luckily, we were able to join a hiking tour with Tiger Trail Travel near Luang Prabang recently. We learned a lot about Lao culture that we'd like to tell you about and, of course, we have some photos as well.
Hiking in beautiful limestone mountains to Khmu Village
After a short transfer to a village outside of Luang Prabang, we crossed the Nam Khan River on a boat and started our tour. Just after we started our tour, we saw some elephants and their mahouts.
Together with a quite curious English couple, we learned a lot about how life is in Laos and things that shape people's lives. Walking through rice fields and jungle woods, the guide first brought us to a Khmu village. We visited a local primary school and were able to explore the village on our own.
The Khmu can be found mostly in northern Laos, but also in Yunnan, Thailand and Vietnam. Most Khmu work in agriculture and grow rice, vegetables, a few fruits, sugar cane, corn and sesame. Their language differs from Lao, so children will be taught their own official language in school. Usually, the elders are responsible for village disputes and are the most important people in the village. Other important people include the priest, the medicine man, the village headman and a shaman (knowledgeable in spiritual medicine).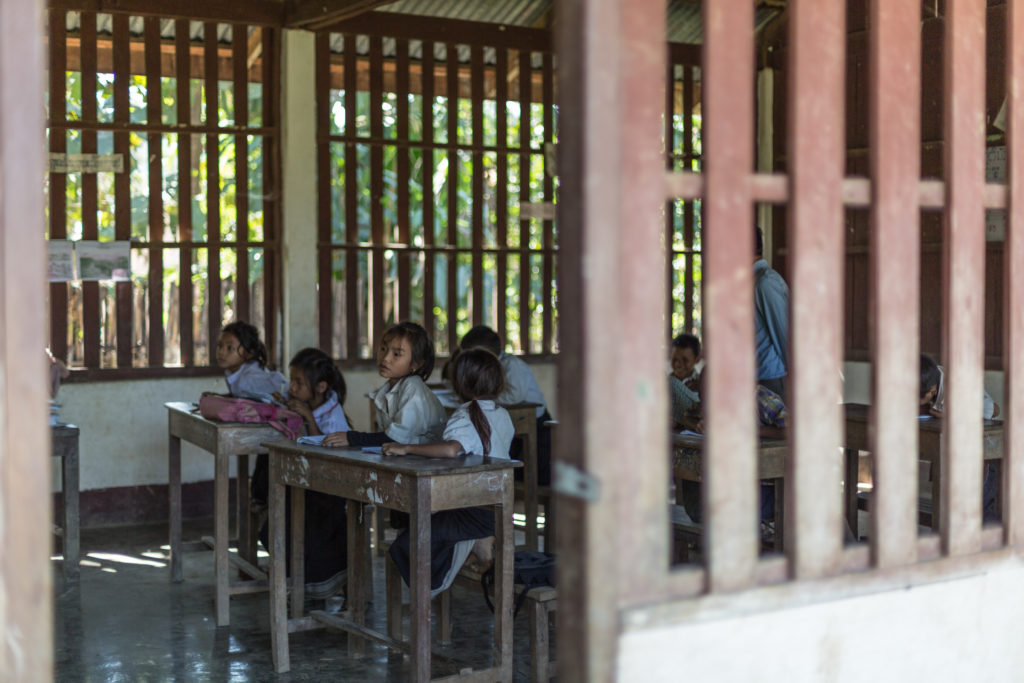 As you can see, life there is pretty simple. The houses are built with natural materials, most don't have any windows and are raised above the ground because of the rainy season, where the ground gets very wet and muddy and floods can occur. Of course, there is no external electric power supply, food market or hospital. Even money is rarely seen, most of the inhabitants there consume what they produce or catch. The rooster you can see below attracts smaller chickens. Still, most of the locals are farmers, growing rice and vegetables.
A few years ago Fairtrek (Tiger Trail's community based tourism team) built a school here and some houses now have a small solar cell to get some electricity. Interesting, that there is more green energy in the small villages in a developing country than in most first world states today…
Lunch in A Hmong village
We continued our walk through an amazing landscape, on nice paths and with great views. Passing fields, woods and small streams, we continued with a short way uphill and arrived at a Hmong village on top of a mountain.
Like the Khmu, the Hmong have their own language as well. You can find them in South East Asia as well as in China, the United States and Australia. They work in agriculture as well and usually came from higher altitudes. As our guide told us, people of this ethnic group never wash themselves and stay mostly among themselves. Many children do not go to school and are working at home or in the fields. Additionally, the government moves their village a bit further downhill every few years.
We ate lunch here, and after a short break and lots of information from our guide, we went back downhill. The landscape was fantastic again, but the temperature had been very high already. Still, we enjoyed hiking and even met some other children and saw another village. Finally, we arrived back at the Nam Khan River, took a short boat ride and visited Tad Sae waterfall. Sadly, we forgot to bring swimsuits, so we spent the time resting a bit. Shortly after, we went back to the village where we started our tour and headed back home.
We can definitely recommend this tour to all who are interested in local cultures and hiking through nice landscapes. You will learn a lot from a professional guide and get an impression of life in Lao countryside.
Maxi Matthias