Tiger Trail, Fair Trek, and Partner Kickoff Grand Opening of the Eco Bungalow in Long Lao Mai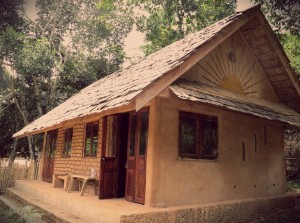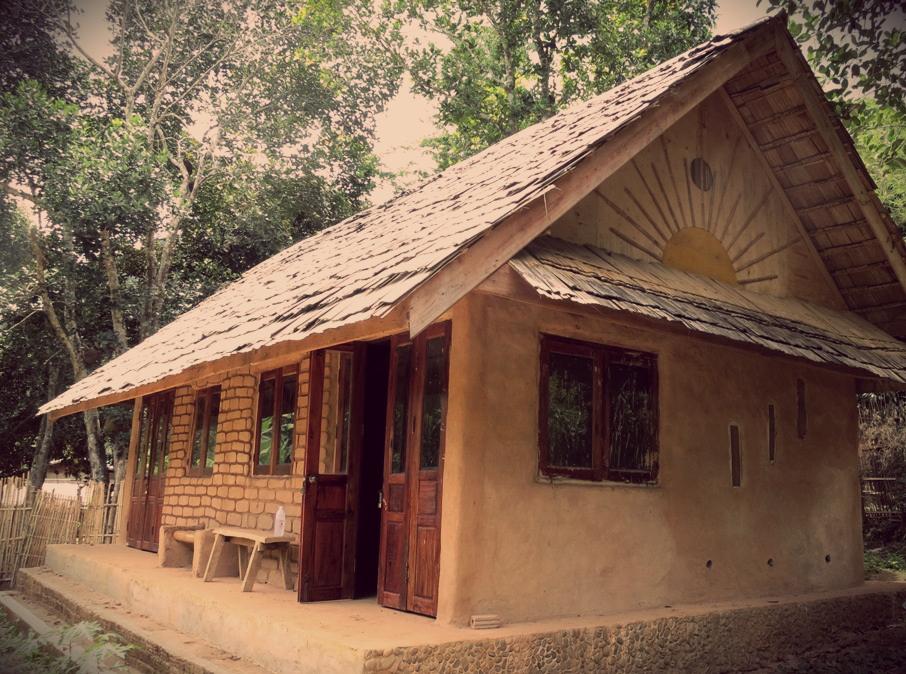 Well, we did it! The Eco Bungalow in Long Lao Mai is officially open for business.  On Friday, 31 January 2014, we celebrated the official opening of the Fair Trek Eco Bungalow community-based tourism project. We joined together with local villagers, the Luang Prabang Tourism Department, and team members from Tiger Trail and partner World Volunteer to unveil the final product of two years of hard work.
Preparation for the party started early in the morning. Some women in the village spent hours cooking these banana flowers, patiently cutting fine layers from dozens of flowers. There was also a vegetable dish and soup being prepared, and somewhere, sticky rice was being made.
As the food simmered over warm, crackling fires, we tidied up the interior of the Eco Bungalow and opened the doors to invite people to walk in and tour the inside. While we were cleaning, villagers were setting up a makeshift tent outside to shield the sun.
Before digging in to the delicious lunch prepared by the villagers, we reflected on the past two years we spent working together to bring the Eco Bungalow to life. Team members from Tiger Trail and World Volunteer expressed their gratitude to everyone who worked tirelessly to build the Eco Bungalow – literally with their bare hands – and were proud to present the final product to the Luang Prabang Tourism Department and the community of Long Lao Mai. The village chief and other high-ranking village members also added a few words presenting the Eco Bungalow to the village.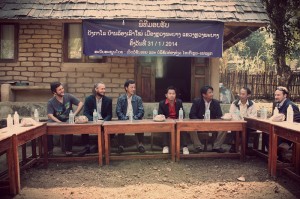 Later, we were entertained with traditional Hmong music and dance performed by local villagers.The qeej, a Hmong instrument made of bamboo and which sounds similar to an organ, sounded so beautiful; we were impressed by the multi-tasking skills of the performer who could dance and play without missing a beat. It must have been the sneakers!
After the qeej performance, local village girls showed us their talent – and definitely won everyone over with their cuteness! Dressed in traditional clothing intricately sewn with vibrant detail, the girls overcame their stage fright and danced perfectly.
The grand opening event was not just an opportunity to launch the Eco Bungalow but a chance to connect with the local community of Long Lao Mai. This project was born from the partnership between Tiger Trail, Fair Trek, and World Volunteer as a way to help the village benefit through tourism – accommodation fees from tourists staying at the Eco Bungalow will go back to the village. This is a tenet of CBT, an approach to tourism that empowers local communities to participate in tourism and benefit from it, rather than be used by it. CBT can sometimes sound ambiguous and conceptual. To truly appreciate its power, you need to connect with the people whom you want to help. During the opening event, we reconnected with old friends and got to know some amazing new people. We're ready to put theory into action and grow this CBT project to provide social, environmental, and economic benefits to our friends in Long Lao Mai. Would you like to join us? theecobungalow.com