Adventure Travel in Northern Laos – to Udomxay and the Nam Kat Yola Pa Protected Area, surprisingly "fantastic"…

DAY 1 of our northern Laos Adventure Trip to "Nam Kat Yola Pa":
Here I am sat in the Tiger Trail Local Sales shop in Lung Prabang, Laos, feeling frustrated… The Green Season is an amazing time of year to get out into the luscious jungles and see the Waterfalls in their full glory.
I love selling these tours in Laos, but I always want to join with our lovely guests and be out there in the Lao nature and beauty. So imagine my excitement when my boss sends me a message about going on a product survey, But to Udomxai?? Hmmm what the heck is there? Most Guide books have only a page dedicated to Udomxay, with the mention of a few temples…. Not the Fresh Jungle Air I was really craving, but then, I was sent the web link to Nam Kat Yola Pa – http://namkatyolapa.com/ Excitement levels went into Overdrive!!

A bunch of our team met in Tiger Trail Travel Head Office ready for an adventure into northern Laos, we jumped in a small minivan and headed off. The First part of the journey into northern Laos was relaxed, normal roads, the standard potholes and the always stunning views of Jungles and the Nam Ou River. It took about 2 hours to get to Pak Mong. Here we stopped at a local restaurant and filled up on tasty noodle soups while one Colleague chowed down on a plate of grilled Vole and sticky rice.
Having a look around, I noticed that one of the stalls had some Bee Larvae… I remember eating some of these when I lived in a local village but these were huge! Constantly hatching into gigantic Bee, Wasp Monster type things!! As soon as one of the larvae hatched into a buzzing monster the ladies would use chopsticks to catch the Bee and put it in a bottle of water, for safe keeping. For the record these are not beautiful endangered honey bees, these are the beasts that one sting and your arm could swell to the size of a small 12 year old child!! A very expensive and slightly hazardous delicacy in Laos.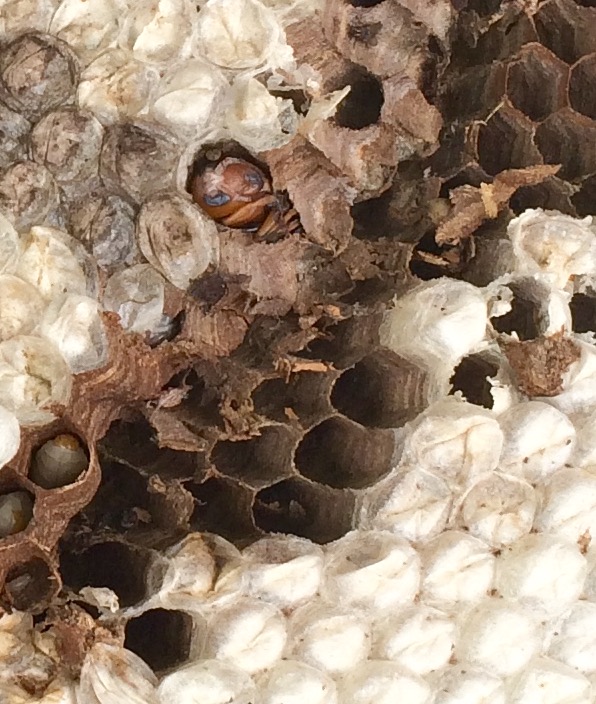 Second part of the journey was heading directly to Udomxai. This is where the journey provides, free bottom massages and complimentary Whip lash! The road snakes around the mountains, and cuts through beautiful Jungle scenery and gorgeous green fields. The main road, is a work in progress, meaning lots and lots of mud and rocks and more mud, and locals working to prepare the foundations for a new super road which will improve the journey from Luang Prabang drastically. It was fun; sitting in the car swaying from side to side and up and down, I was beginning to wish I was wearing my sports bra for the minivan journey instead of saving it for jungle adventures!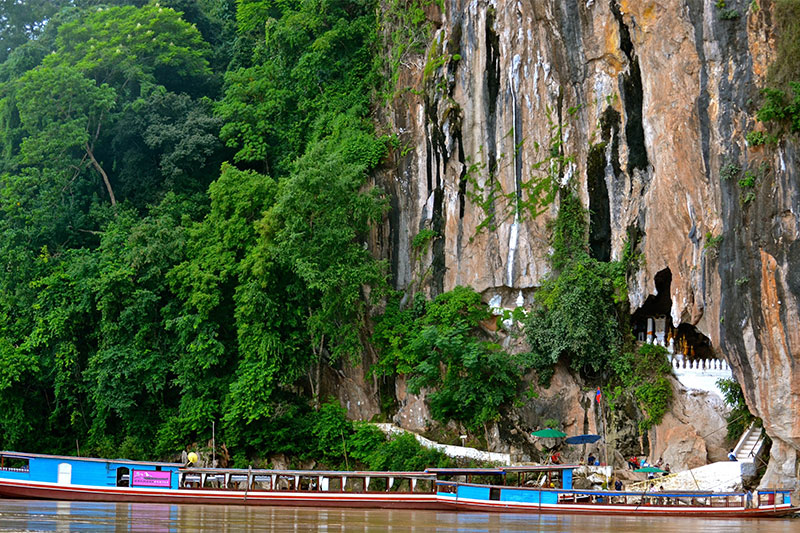 You can visit Pak Ou Cave on the way by crossing the long tail boat from Pak Ou Village to Pak Ou Cave.

We arrived to Udomxai about 5 hours after leaving Luang Prabang. There is a super new Chinese Built International Bus station for buses heading to Kunming and the regular bus station a few minutes down the road. We did not need to stop for any arranged transfer this time so we headed out through Udomxai town into Valleys of Green towards Nam Kat Yola Pa… WOW the scenery was out of this world….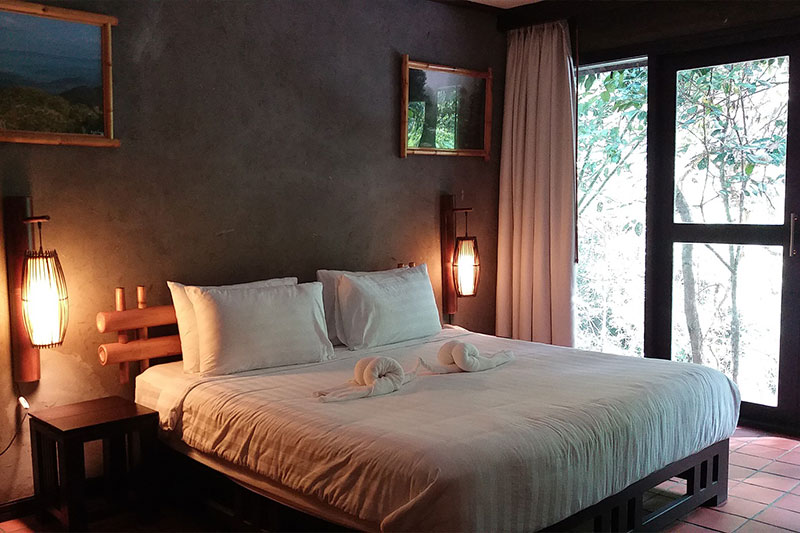 We finally arrived… Whilst there is a lot of construction still taking place in the resort, I couldn't stop listening to the sounds of the babbling stream that seems to weave its way throughout the entire resort, Already a beautiful water feature, which I since learnt comes from the Nam Kat River and once it has flowed through the resort it goes out to the neighboring rice paddies to help all the local farmers with their Dam and reservoirs for the rice plantations.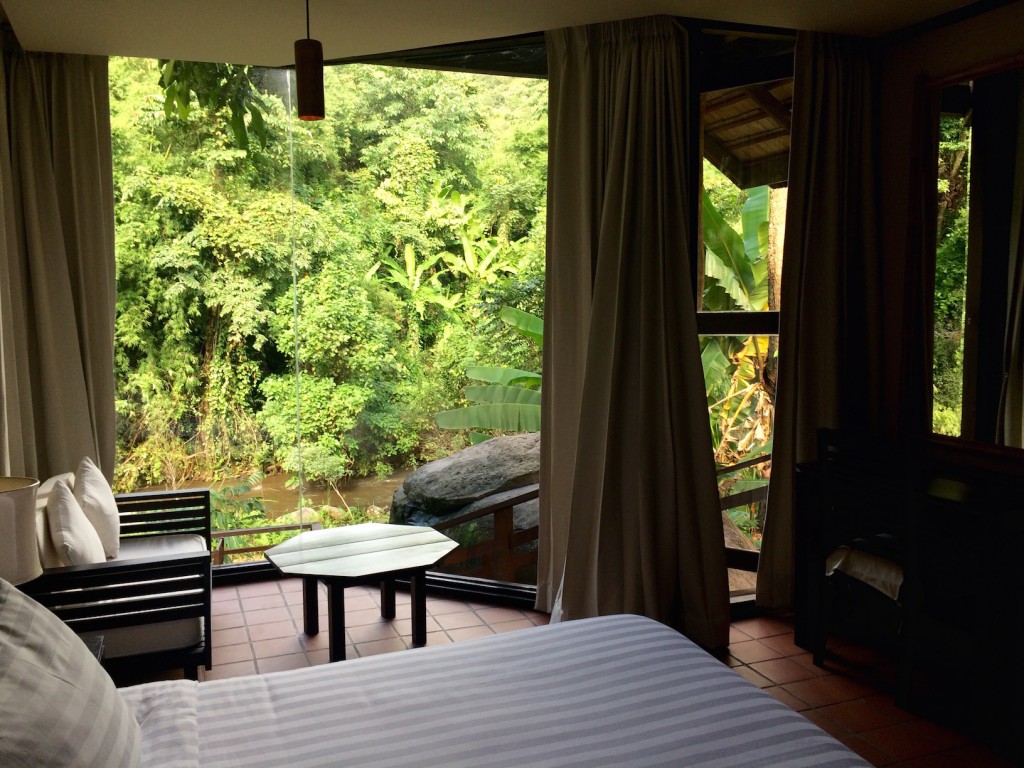 We had zero idea of where we would be staying for the evening, a shed? A homestay? Our Car? Nope I was given key number 4 and shown to a bungalow that seemed a little grey on the outside but as soon as I walked it I was blown away by the beauty of the room, eager as ever, I ran over to the full length 10ft long curtains to pull them open and WOW. I had a panoramic view of the Jungle with the Nam Kat ebbing and flowing beneath me. About 10 steps down and I was on my private balcony, already wishing for a Gin and Tonic and the hope I could stay for a week.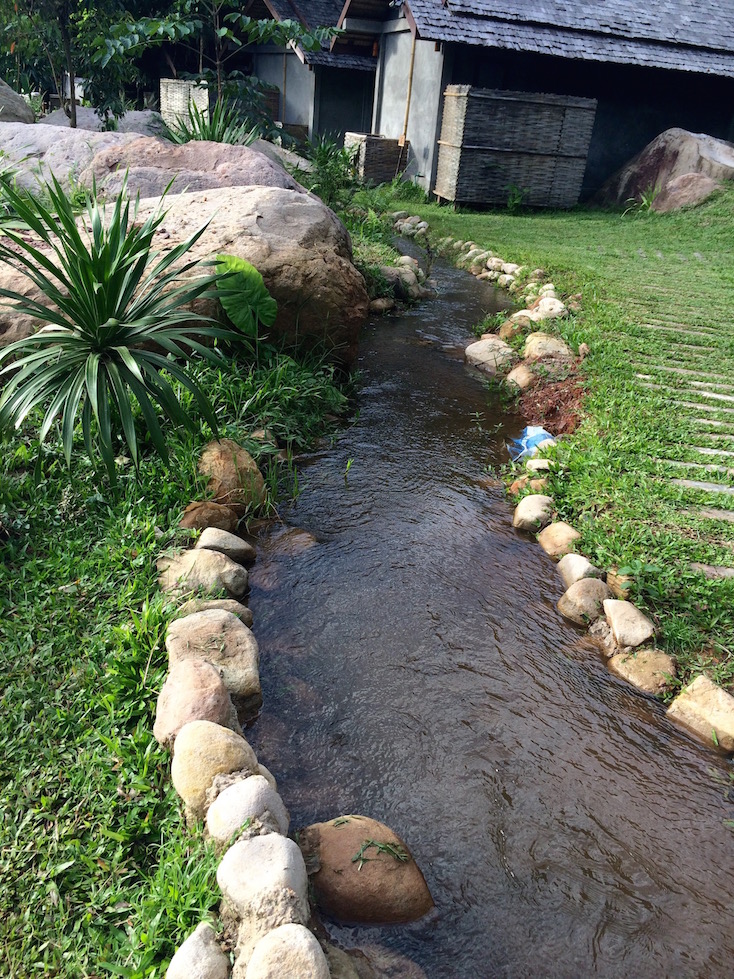 I jumped in the rain shower and giggled that there was no door and a very large glass window, you have to be pretty comfortable with your roommate, it does not take too long for the full length window to steam up, So you can avoid giving away free peep shows….. Up to you!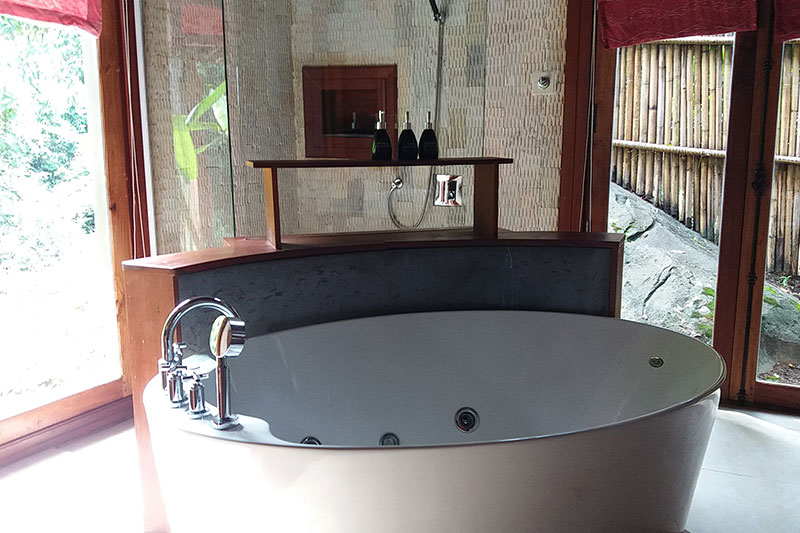 Time to check out the facilities in the resort. A beautiful swimming pool and one small pool for the children, a Spa being built, and the most stunning beautiful Reception area made with high ceilings of Bamboo and rattan, one felt like one should have been wearing a ball gown. I thought my room was nice, but the new private river bungalows each with their own private plunge pool that were being constructed sounded even more amazing, Think I better come back and check those out!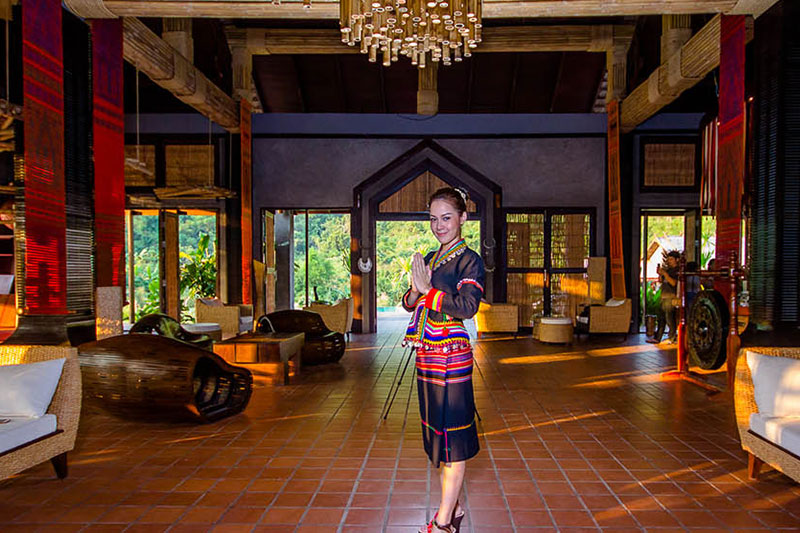 The next stop was to visit the adjacent Khmu Village. The Khmu tribe of Laos is prevalent in this area and as part of the Forest Area Conservation Ecological Tourism program (FACET) they built new traditional style houses, put in Electricity, running water and luscious Rice fields. Khmu families from the area were invited to move here, for free. They would be able to live of the land and have jobs in the Resort and Park. By providing these facilities and jobs the local Khmu no longer need to rely on getting food from the jungle, thus protecting the very vulnerable Laos Wildlife, They are also able to protect the jungle itself by providing all the resources and materials needed for families to survive.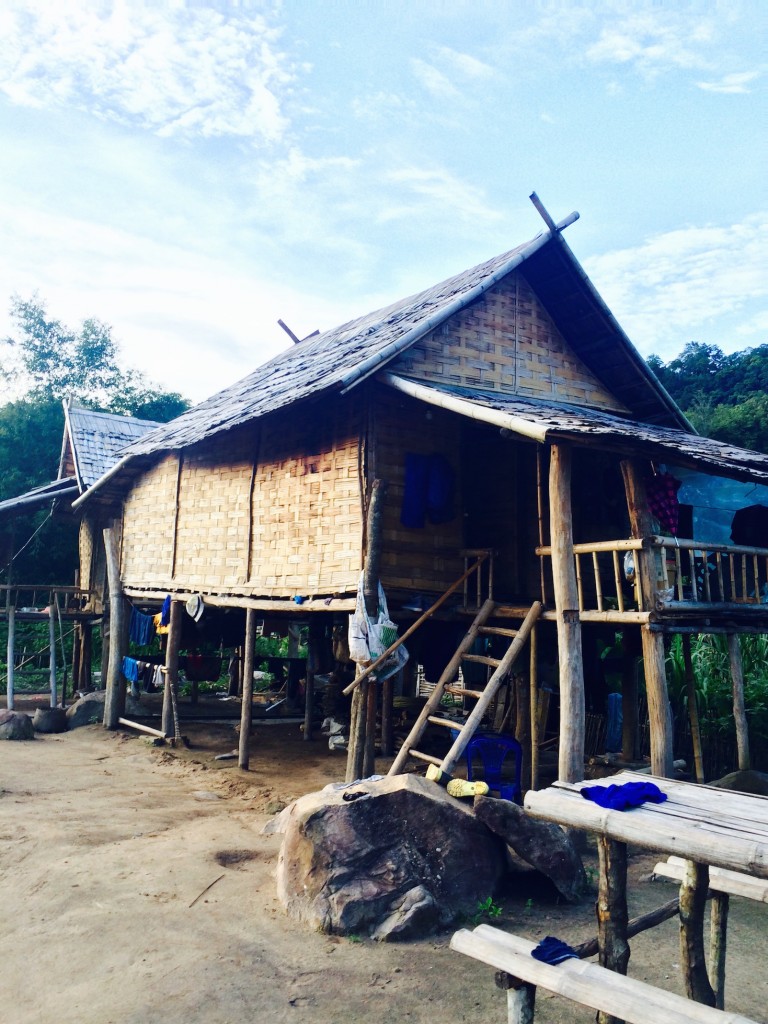 I thought the village was very beautiful and instantly I could tell they rarely see a foreigner. Khmu language is different to Lao so I asked the manager from the resort who lives in the village how to say Hello in Khmu (samai lute) instantly the children giggled and ran off to hide behind the washing hanging up on bamboo lines. After a while they started to follow me closer and closer, they were fascinated with me as much as I with them. This village would be the option for a homestay in this area, I look forward to coming back and experiencing this village so I can learn even more about the Khmu way of life, and practice the other Khmu phrase I was taught… (orrr Raaakmee) I do not know how to spell and the R's are rolled many, many times, but it was a very funky sounding way to say I love you in Khmu.
Back to the resort to check the temperature of the fridge by drinking a nice cool beer watching the sun setting over the neighboring mountains.
DAY2 of our Adventure in northern Laos

I left my curtains open and when my alarm went of….. I woke up to the most amazing view, snuggled in a bed that seemed to cocoon me. If I was not so excited about my adventure activities today I might have turned of the alarm clock and stayed in bed.
We all met for a hearty breakfast and jumped in green Tuk Tuk vehicle and set off to the National Park and Information center. Whilst there, we took a team photo as it felt like the undiscovered lands of Jurassic Park and I thought we should have a recent photo of us all, just in case a T-Rex did appear from the jungles to eat us!

We were splitting into two teams to try and cover as many activities as possible.
All Activities can be done in half a day up to a 4 day full action packed adventure.
I opted to start with the Jungle Trekking and a visit to the Tree houses, another overnight option. Wow, the jungle was just beautiful, nicely covered over our heads as we continually passed streams and mini waterfalls until 40mins later we arrived what seemed so effortlessly to our first Action Stop, Of course we were all sweating like a Pig on a Lao bbq, but nothing mattered as we gazed upon the Houaysoum Waterfall. After a few photo shots and a token selfie, the guide was unfolding meters upon meters of rope, I was like, and what are we doing? In this area has an abundance of options. You can rock climb up the waterfall, and then abseil down. If we looked high up into the tree canopy we got our first glimpse of one of the tree houses. We were then informed to get into each tree house would result in a steep trek up and then zip lining across the tree tops in to the purpose built jungle tree houses. Each house has a twin or double, running water and a bathroom. The maximum you can get in a house would be 4 people.

So, we climbed up and up, and up a bit more, the guides gave us all a harness and a hard hat. After a little trying out of equipment, two of us had to have the guide's harnesses as we were a little bit bigger than the average tourist! I was super happy that the harness would actually fit around my waste, but the Guide didn't mind trying to help me wedge my legs in. It was nice that he made none of the usual Laos statements about size and weight, there was a high possibility I might have jumped off the waterfall if he had, but the guides were just very lovely and just got on with the task in hand. A Small Zip line through the trees and you would arrive in your bungalow. On tours with this accommodation included you would zip line in around 3pm so you get to fully experience tree life.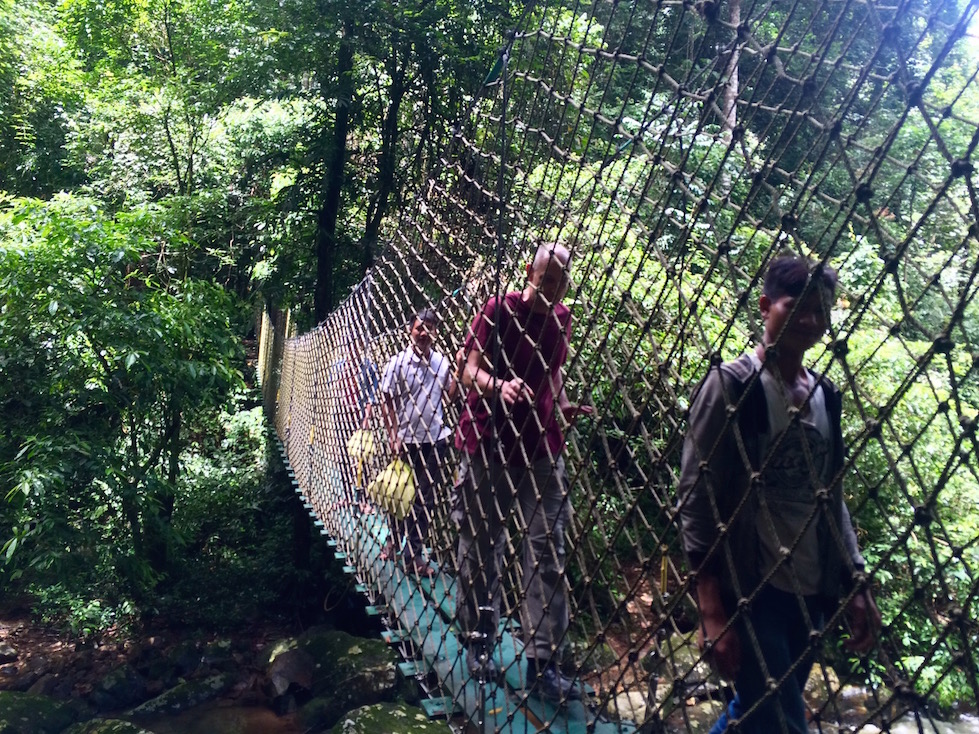 Once the first tree house visit was made, we trekked onwards and upwards weaving through the jungle and spotting many other tree houses secluded amongst the jungle canopies, Each one accessible via its own Zip line.
We ended up at the top of the waterfall and took a rest. We discussed what else we could experience in the park. We decided it was still too early for lunch so we would trek back out the jungle and then head into another to experience, trekking, flying bridges and another waterfall. It was quite slippery on the way down, Despite the Guides doing EVERYTHING in flip-flops, I found it hard to remain stable in my trekking shoes, in fact I kept slipping and in the end I let go and saved myself a few meters by bumming it down the tracks. Not the most comfortable experience, I bruise like a peach and with several steep slippery parts, my bottom got a lot of action. The fun and the sprit were not dampened at all it was such a beautiful place to be and eventually we got out of the jungle to the purpose built road where we awaited our green chariot.
 Jungle Trekking & Climbing northern Laos
We drove off further into the park, over purpose made roads and bridges that criss crossed over the Nam Kat River and 20 minutes later we arrived to another area.  We started another trek into the jungle and advised we were going to be crossing about 15 flying bridges. Nice trek to start with, and one section which was steep for about 5 minutes, and then we came to the first bridge. If you ever had a fantasy about becoming Indiana Jones then this excursion is for you. All bridges were different lengths, heights and styles, each one was in fact flying as they lay suspended above jungle and gushing rivers below. I did not ever feel unsafe as there were high rise sides on all bridges; no way to fall out or over, but the bridges did have some shake to them. I lost count after bridge 10, when someone started to run and made me nervous giggle all the way across. We came to a cross section, one direction to the start of Zip Lining and the other way to Nam Kat Waterfall.
As we started to cross a bridge I could hear the rolling waters of water crashing over rocks and I turned to the right to get a beautiful surprise, The Nam Kat Waterfall. What a breath taking sight and sound, watching and listening as the water crescendos over the rocks and out into the river. This Waterfall and the river is full all year round, making it an awesome all season package. We chose to sit and enjoy our lunch here after the 40min journey to get there, while the surroundings just seemed to relax all of us out.  No swimming allowed in this waterfall, but you can certainly get down to the water and freshen up after your trek.

After lunch we headed back out, the return journey was only about 25 minutes with less bridges and we arrived back out to the green mobile to take us back to the resort. On route we stopped at the information center to study maps and tour packages. While waiting I was drawn to two grayish lumps in the distance…. yes elephants. I went over, spoke with the mahouts and met the two resident female Elephants. People that know me will understand that I have a great passion for elephants and needed to check the girls were happy and healthy and to ensure that any tourism program they were involved in was positive for the elephants. Right now they are having a lovely life, eating, drinking and sleeping. I was advised that Programs involving the elephants will have education and no chairs for riding. I could not resist a photo of these beautiful girls and I of course will keep a regular check up on their Jungle life. I had a few more giant elephant cuddles before we all headed back to the resort.
TOUR SUMMARY:
There is just so much to do in Nam Kat Yopla Pa, Let us take the hassle out of trying to book packages and let us arrange it for you. We can give you first-hand knowledge and full details about all the exciting excursions that are in place now and coming up in the near future. We can put together the activities you are interested into a package for you. I am really keen for my next trip to go trekking and camp the night on Phadaeng mountain top, maybe an afternoon on the quad bikes and then enjoy firing the big guns in the shooting range. There really is something for everyone on every budget, who is coming with me?