Cruising the mighty Mekong in style

Here I am, lounging in the shade, avoiding the hot, mid-morning sun along the Mekong as we slowly wind our way downriver to Luang Prabang. All is quiet and peaceful except for the sound of the boat's motor slicing through the water, glistening as it rushes past us. Steep hilltops sitting lush and green from the rains, close in on us as the river bends and narrows, giving us a close-up glimpse of their sheer magnitude. The views are absolutely stunning.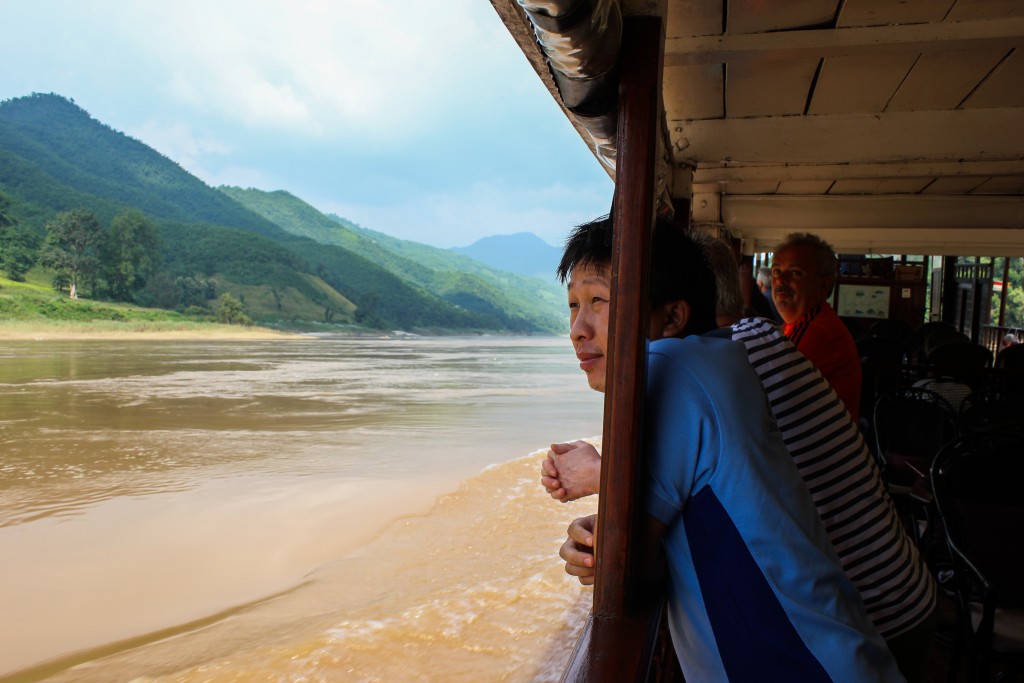 As I sit in awe, I can't help but notice that towering over the occasional sand bank and rocky crag, are these hill forests filled with trees climbing up their slopes interspersed by curious sporadic patches of a different kind of green, clear-cut through. Our guide, Kee, turns to us and explains that these are hillside rice farms grown by the Khmu people who inhabit this region. For generations, they have been defying gravitational odds as they've made these incredibly steeply inclined riverbanks their homes- growing rice, corn and vegetables, at 600-800m above sea level.
We then break our leisurely chitchat and reading for a buffet-style Lao lunch of rice accompanied by coconut and eggplant beef curry, banana-leaf wrapped fish, and various veggies all wonderfully prepared.
A Khmu Visit
Shortly after lunch, we come ashore to visit one of the many villages lining the banks. Our guide takes us through a Khmu community and teaches us about their culture and life along the Mekong. Around us, villagers who aren't out in the fields farming, go about their daily tasks as we walk through attempting to say samay leuh or "hello" in the Khmu dialect. Despite our terrible lack of Khmu language skills, the villagers are pleasant and friendly, especially given the fact that a bunch of strangers just washed up on their shore and are now proceeding to walk through their community on an otherwise normal day.
After a half an hour, we leave the village and get back on the boat to head to our lodging for the night in Pakbeng – a set of beautiful bungalows nestled in the hills overlooking the river.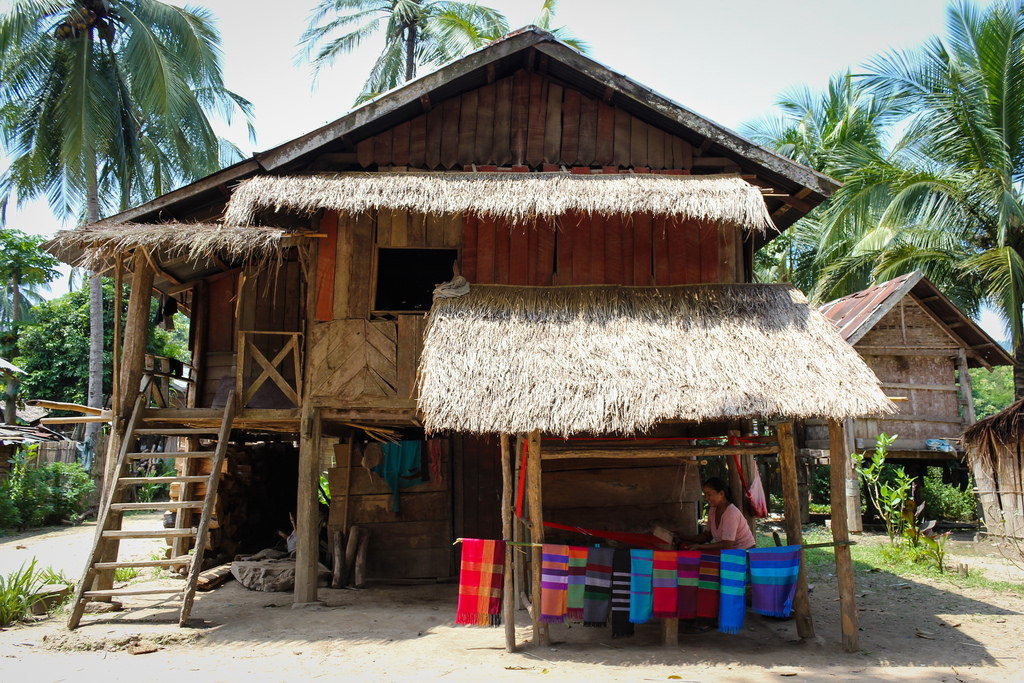 Ride and Dine
This is all part of my trip on a slow boat with Luang Say cruises. The last time I attempted this trip- doing the opposite stretch – from Luang Prabang to Chiang Rai, Thailand, I took the night bus and it was wholly unpleasant. Besides breaking down 20 minutes outside of Luang Prabang and having to wait for 1.5 hours before changing to a less comfortable bus for the remainder of the 16-hour ride, the experience was just plain long and boring. It mostly involved switching between a series of uncomfortable sleeping positions on a half-reclining seat for far too long.
And although a slow boat along the Mekong is double in time, at 2 days and 1 night (note: significantly longer than a plane ride from anywhere in Asia to LPQ), the cruise hands down beats out all other modes of transport.
A ride down the river isn't merely about the destination (even though Luang Prabang is a beautiful town) but the journey itself. Keeping that cliché in mind, picture yourself taking in the fresh air and beautiful scenery on the water, trekking through villages and caves, eating delicious food and staying at a lovely lodge.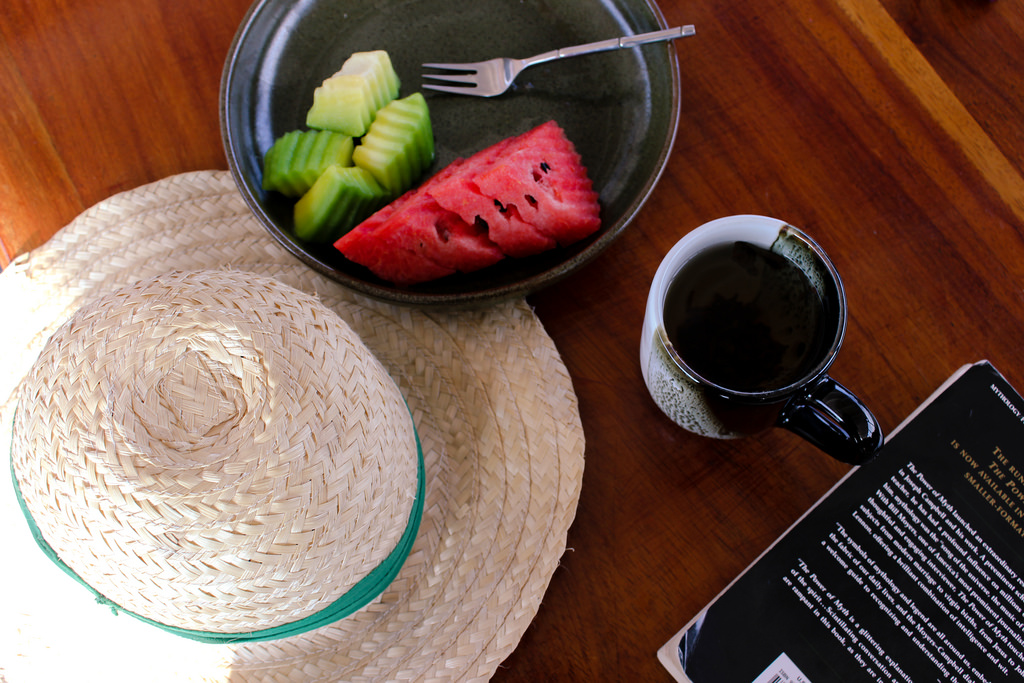 Rewind
We started early morning by crossing the border to Laos from Chiang Khong in Thailand to at Huay Xai in Laos. After Thai border control, Luang Say provides transport to its passengers across the Friendship Bridge and once they gain visa entry, to the pier itself. It was all smooth sailing… without the sails.
Once we boarded, we settled in for our journey. The boat itself is a beautifully constructed wooden-paneled ship with plenty of rattan furniture perfect for lounging, a bar for grabbing a sundowner, and a set of clean western-style bathrooms. In addition to our lunch, the friendly staff provided complimentary tea, coffee, water, fruit, and other snacks all day long while our guide Kee was happy to answer any questions we had.
After our village visit and lunch we disembarked in the late afternoon to settle into our hillside bungalows for a night at the Luang Say Lodge. The lodge has an expansive deck at overlooking the river, so we grabbed drinks and kicked back on the deck chairs as the sun set between the hills on the Mekong.
Dinner later that evening was exquisite, and served as a great introduction to the best of Lao cuisine. We had plenty of carefully-prepared spring rolls, laap, and sticky rice to go around, with wine to order of course. As the night drew to a close, we retired to our beautifully-furnished bungalows and let the tropical sounds lull us to sleep.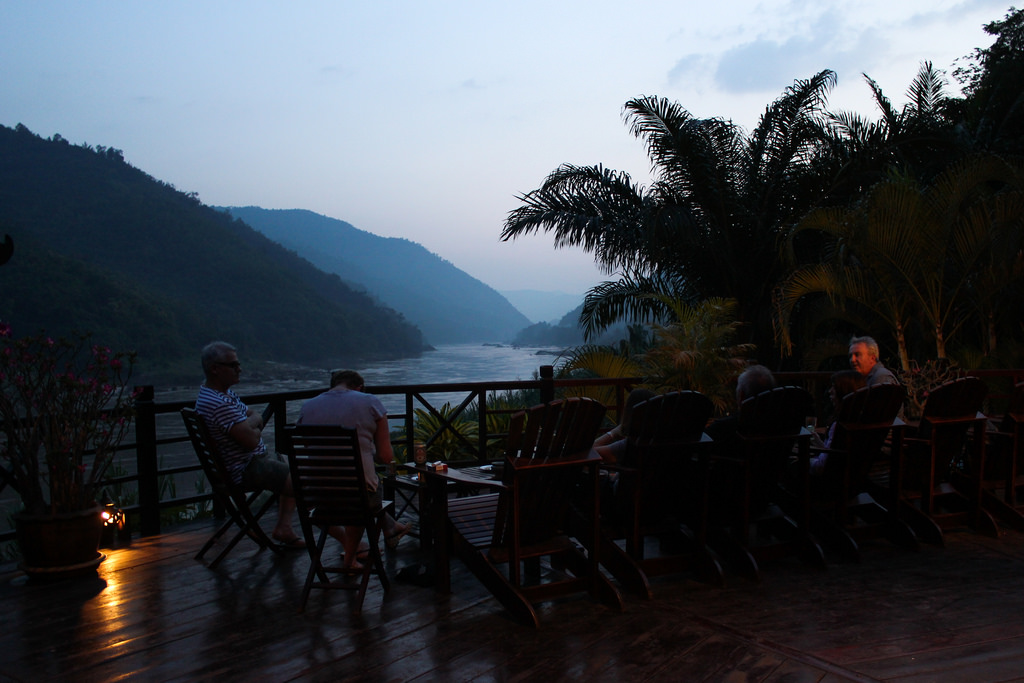 The next day, after another great meal at the lodge, we boarded the boat for another day of relaxation, village visits, and an excursion to Pak Ou Cave – a cave temple on the riverbanks filled with Buddha statues, just outside of Luang Prabang.
We ended our trip before dusk, slowly easing into the waters surrounding the world heritage town. As I climbed up the banks, I looked back on the boat grateful to have spent my last two days experiencing Northern Laos along the Mekong. The ride was comfortable, relaxing, and eye-opening. We were now ready to spend the next few days exploring the little cafes, restaurants, temples, and night market textiles that this world heritage town has to offer.
A Mekong Cruise can be booked and arranged by Tiger Trail Travel
There are 2 to 4 day Mekong Cruise options available