Luang Prabang:
Mekong Yoga Retreat & Hillside
2day/2night, with optional Kuang Si Trek

Dates : July 19-21 / August 9-11 / Sept 6-8
This Luang Prabang based Yoga Retreat is a unique opportunity to completely unplug and get away for two full nights and days.
The Hillside Yoga retreat, arranged by "Mekong Yoga" is an exceptional possibility to grow in your yoga practices while being able to enjoy quality retreat time with fellow Yoga enthusiasts. The location and accommodation as well as the food and natural surrounding make this a memorable retreat just outside of Luang Prabang.
Leaving for your Yoga retreat out of Luang Prabang:
You will be picked up in Luang Prabang and driven up the lush mountains to the Hillside Lifestyle Resort. Over the next 48 hours, you will have two dusk meditations that will withdraw your senses away from your thoughts and into your deeper emotions and feelings. This is complemented by the mornings, when you will start your day with a 90 minute yoga practice (a vinyasa flow class based upon the primary and intermediate series of Ashtanga yoga).

Your time in between the yoga and meditation is yours to use as you see fit. You may cool off in the pool, go for country walks, explore nearby waterfalls, enjoy the high quality menu and/or simply relax in nature.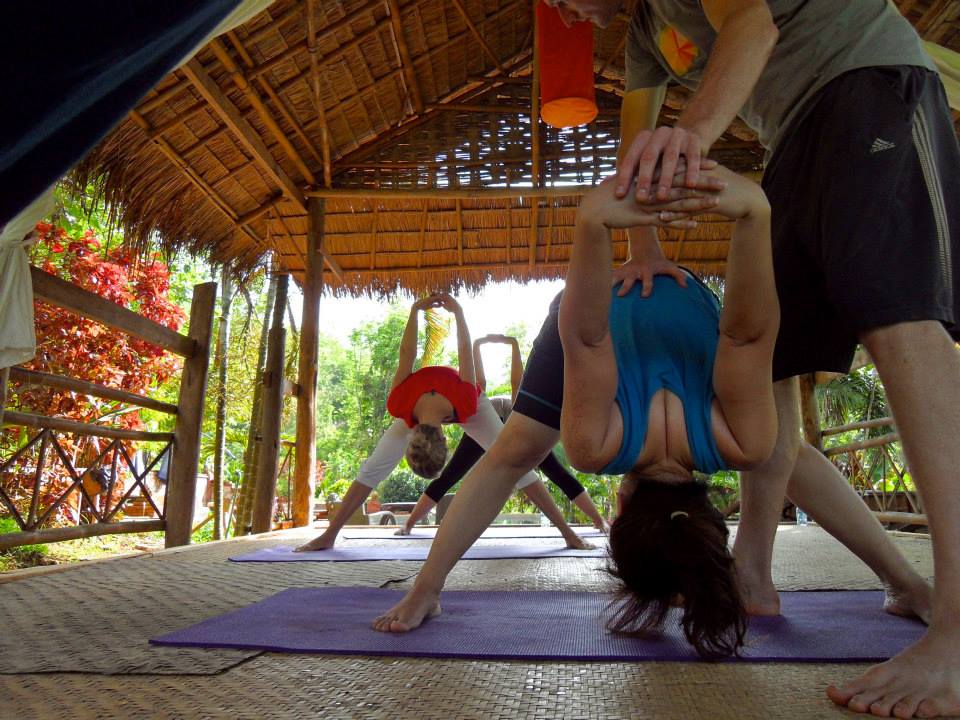 Getting active, explore the Lao country side:
Day Two offers a trek to discover beautiful nature and landscapes on this one day Fair Trek hiking tour. You will see rice paddies and locally cultivated land as well as dense forests on your way to the amazing Kuang Si waterfalls: Laos' most famous waterfall.
You'll be driven to the starting point at the Long Lao village where we start our hiking tour. We commence this tour with exploring the life and culture of the village where Khamu and Hmong people live.
The trail leads than passing some fields and vegetable gardens before reaching the forested mountains with quite wild sceneries and steeper climbs. After a stretch of forest hiking (slippery in wet season) we will explore an interesting cave. During the Second Indochina War people say it helped the local people as a bomb shelter!
The early afternoon we then arrive at the crystal clear water of just one of the springs that feed the famous Kuang Si waterfall. The last short walk brings us down the steep waterfall where we have time for a relaxing swim.
We then drive back to Hillside Resort where we will just in time for the evening sunset meditation. When you descent the mountain from your Hillside Yoga Retreat on Sunday, you will feel relaxed, balanced as well as challenged.
About Luang Prabang Mekong Yoga: Luang Prabang based Mekong Yoga is located right in the center of Luang Prabang at the temple Wat Aphai. From the shala (Yoga Center), you can see the temple grounds, the greenery and the view up to Phousi Hill. The yoga space itself was once part of the temple and with its hard wood floors, historical connection, and air of spirituality, it is an ideal place for your practice. Luang Prabang Mekong Yoga offers a wide variety of yoga classes and the common goal is for you to feel relaxed yet challenged, calm and focused as well as evolving your relationship with yoga. It is very important to us that you feel empowered in whatever style of yoga that you choose to practice and feel proud of your ongoing endeavour of personal development and understanding.
About the Yoga retreat teacher:
Craig Morton has maintained a daily Ashtanga practice for over four years and just completed his first trip to Mysore to study at the Pattabhi Jois Ashtanga Yoga Institute with Sharath. He has also been fortunate to work with Chad Herst and Devorah Sachs of Mission Ashtanga in San Francisco and Prem Carlisi in Bali. He is also an accredited yoga alliance instructor (200 hour). His classes are based upon ashtanga but taught in the style of vinyasa flow and meet each student at their particular level while still providing humour, challenge, and quality instruction
Similar tour packages, without Yoga available with the Hillside Explorer Tour, a 2 day package including waterfall and trekking activities as well. Check our more on this offer!